School development at the IELEV High School (PQM)
The process of quality development and school development started at the IELEV high school from the 2018-2019 school year. School development generally deals with these three areas: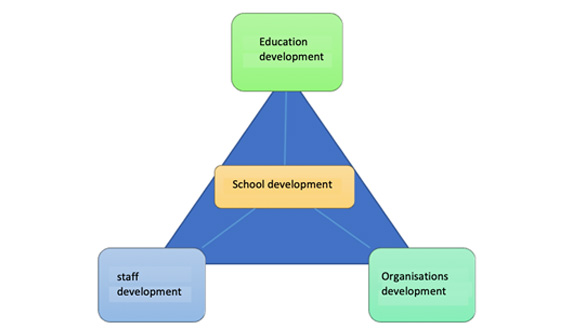 The basis for school development at the IELEV high school will be the school's mission statement and school program. School development work is coordinated by the school development team, which will be composed of members of the school.
The School development group
The school development group of the IELEV high school is an organ of the school for the coordination and control of the process of quality development, thus the school development of the school as a whole. The school development group works on behalf of the college and ensures transparency.
Composition:
The school development group consists of permanent members (school management, PQM coordinator and IB coordinator) and temporarily representatives of various committees and project groups.
Our development focus 2019-2021:
Based on the performance and funding agreement from October 2018, the following development priorities were defined:
Establishment of basic structures for a systematic educational quality management
Promotion of a student-oriented, cooperative learning culture
Creation of the basis for sustainable teacher professionalization and personnel development
Systematic expansion of language support
Contact person: Hülya Turan (PQM Coordinator) hturan@ielev.k12.tr